SOLIXIR
Solixir makes all-natural functional beverages that compete against traditional energy drinks from the likes of Coke and Pepsi. In other words, they are David fighting multiple Goliaths. To succeed, they eschewed the athletic field and targeted the workplace with transit, outdoor and web advertising featuring brain-dead cubicle dwellers known as the Working Dead. Actors were even hired to portray the Working Dead in Chicago's Loop during rush hours. Overall, sales for the only known antidote to the zombie-like condition steadily increased after the campaign's debut. In fact, many businesses directly approached Solixir to have the beverages stocked in their offices.
FEW SPIRITS
It's not every day that a distillery opens in Evanston, Illinois. In fact, until FEW Spirits began operations, it hadn't happened in the hometown of the Women's Christian Temperance Union since the organization was founded. Charged with creating a website for the only small-batch liquors good enough to tell the nation, "We're sorry for Prohibition," we helped create this award-winning White City-themed website as well as the liquor bottles themselves.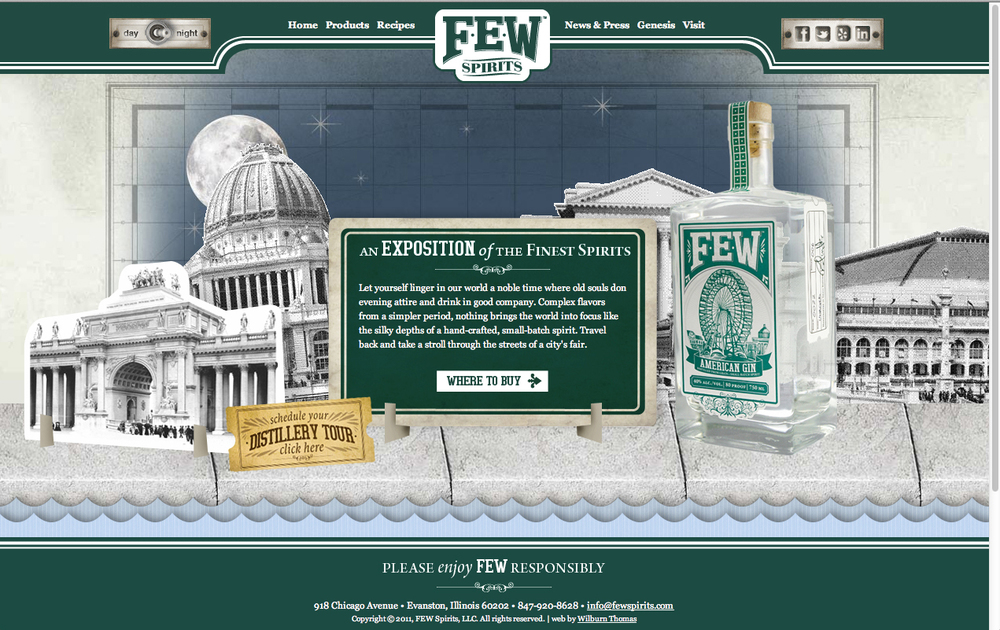 Bottle/Packaging Recognition
2012 American Package Design Award: Label Design
2012 Neenah UnShow Competition: Label Design
2012 San Francisco World Spirits Packaging Design Awards, Silver: Label Design
2012 Package Design Magazine (Cover): Few Spirits
2012 Thedieline.com, "Trending: Hipster Edition:" Few Spirits
Website Recognition
2011 W³ Awards, Gold: Website
2011 Davey Award, Gold: Website
2012 Communicator Award: Website
AMERICAN LUNG ASSOCIATION
Smokers know that smoking kills and they resent being told as much. Instead, these outdoor boards prompt smokers to confront how their habit impacts those they love most and leaves it to them to draw their own conclusions. The result was an over-20% increase in calls to the Illinois Tobacco Quitline. And if imitation is the sincerest form of flattery, we saw another, Salt Lake City-based charity virtually copy them two years after the campaign was an OBIE finalist.
See expanded portfolios at: